 MAKING CONNECTIONS, CLOSING THE LOOP.
A SMART Materials Project by the Design Center of the Philippines
Bakong, a perennial aquatic plant considered an obstruction in Laguna de Cagayan, has started a conversation
about our shared responsibility towards society and the environment. Read more about our inaugural collaborations,
with circular design at the forefront.
---
A

New Natural Material


Designed for a Circular Economy
The Laguna de Cagayan teems with flora and fauna. Yet it is the perennial, aquatic plant locally known as Bakong that dominates the area by its sheer number and density. Fiber from bakong has built a local handicrafts industry around it, but not enough to sustain the community's livelihood. Located in this small, northern town of Sta. Teresita, Cagayan, a bigger idea will emerge and expand our understanding of what it means to connect with one another.Bakong becomes our starting point of a conversation about our shared responsibility towards society and the environment through the lens of circular design. With the designer at the forefront of developing products, this inaugural bakong collaboration seeks to capture the journey of this versatile raw material from concept to final product. We pull from the plant its innate intelligence to guide us in shaping our ideas. From there, we continue to build upon it with technology and innovation to create a bigger impact.With the bakong project's own ecosystem of partners located across the archipelago, we are made stronger by our sheer number, and diverse ideas and experiences. We hope to enliven the community in Sta. Teresita once more as their story has inspired us. The future of the world is circular and we all have something to contribute.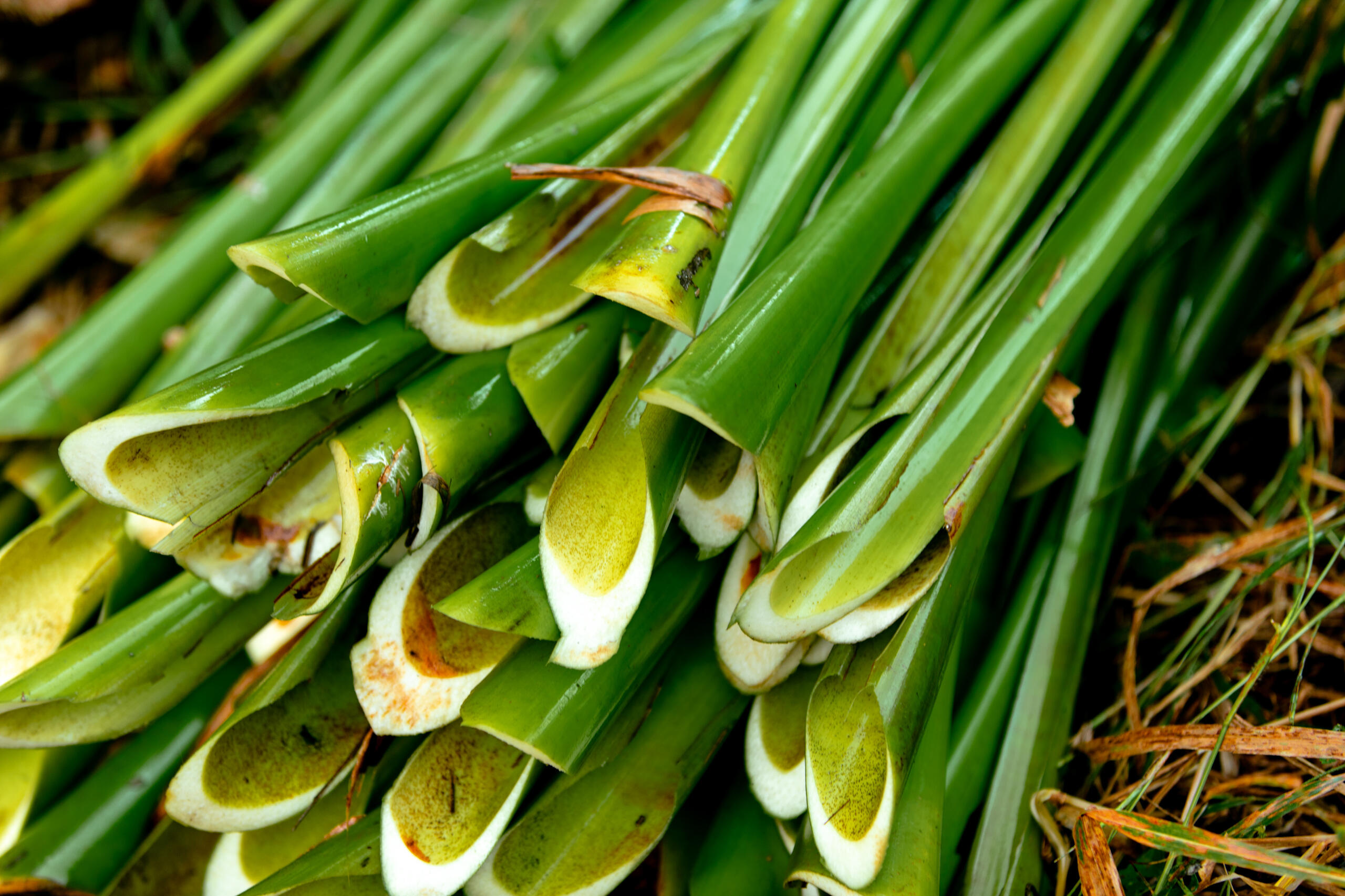 ---
---
Circular

Design Challenge
Design Center of the Philippines collaborated with Circulo and Work in Progress for a two-day Circular Design Challenge that explored the potential of bakong as a sustainable material solution. Part of the hackathon are key sessions on design thinking, circular strategies, and effective business pitching geared towards enriching the design solutions developed.A total of ten groups, with 22 participants in all, pitched concepts that covered textile research and development, healthcare, and acoustics, among others. From the ten pitches, the top three were selected based on the innovative utilization and positive economic and ecological impact their proposed solutions can deliver.The winning groups, Malayana, Modubako, and Brakong, worked closely with experts from Design Center, Bakong Creative Director and Circularity expert Carlo Delantar, and experts from Circulo.Their concepts and prototypes were launched at the Sustainability Solutions Expo 2022.
---
Brakong
Aiming to empower the breast cancer survivors and help them regain their self-esteem, Brakong is a 3D-printed breast prosthesis for breast cancer survivors who have undergone mastectomy.Brakong is made from the formulated PLAkong, a biocomposite filament composed of PLA and Bakong pellets. Brakong has a lightweight, comfortable, and nature-inspired design that can be remelted and reprinted to create another breast form. It uses a 3D Scanning technology to perfectly match the chest curves and features of its wearer.
Designers:
Emmanuelle A. Pangilinan
Jason N. PechardoMentor:
ICanServe Foundation
---
Malayana
Borrowing from bakong's scientific name (Hanguana malayana), the second word is transformed into "malaya na," loosely translated in Filipino as "now free." The design duo interpreted this to mean "freedom of expression, transformation, exploration, artistry and empowerment. Inspired by women as "Ilaw ng tahanan" (light of the home), they envision their enterprise to support women and their communities.Their lighting collection connects materials from artisans in Laguna de Cagayan to other community-based enterprises along the Sierra Madre Mountain range. They considered modular design for replacement and adjustment of pieces for flat packaging.
Designers:
Alyanna Carrion
Jam CubeloMentor:
Stanley Ruiz
---
Modubako
The design duo conceptualized the school chair as a medium to introduce creativity and critical thinking, with the needs of the young Filipino student in mind. Believing that a good education is the cornerstone in which we engage with the world, they used this as an opportunity to present learning as multidimensional.Modubako is a dynamic and easy-to-assemble piece of furniture. It communicates that design exists everywhere and we can participate in that process. Its modular construction allows for versatility in its design, yet sturdy enough for its main purpose as a school chair. It can eventually be upcycled into a planter, or when put together, a garden bed.
Designers:
Angelo Raymund Uy
Leslie Angbue-TeMentor:
Fortunato Dela Peña Jr.
---
---
Materials & Products
Produced by Laguna de Cagayan Handicrafts Association
Produced by Natural Craft Connection Enterprises 
Produced by Natural Craft Connection Enterprises 
Produced by D&L Polymers and Colours
Produced by DOST - Philippine Textile Research Institute
Produced by Envirotech Waste Recycling Inc.
Products
---
BaCo
BaCo is a wordplay on "bakong composite plastic." It showcases a 4-piece furniture collection composed of bakong biocomposite crates with upcycled and recyclable materials designed with minimal use of materials and allows functionality and adaptability for different lifestyles.Designer:
Fortunato de la Pena Jr.Manufacturer:
BalaiKamay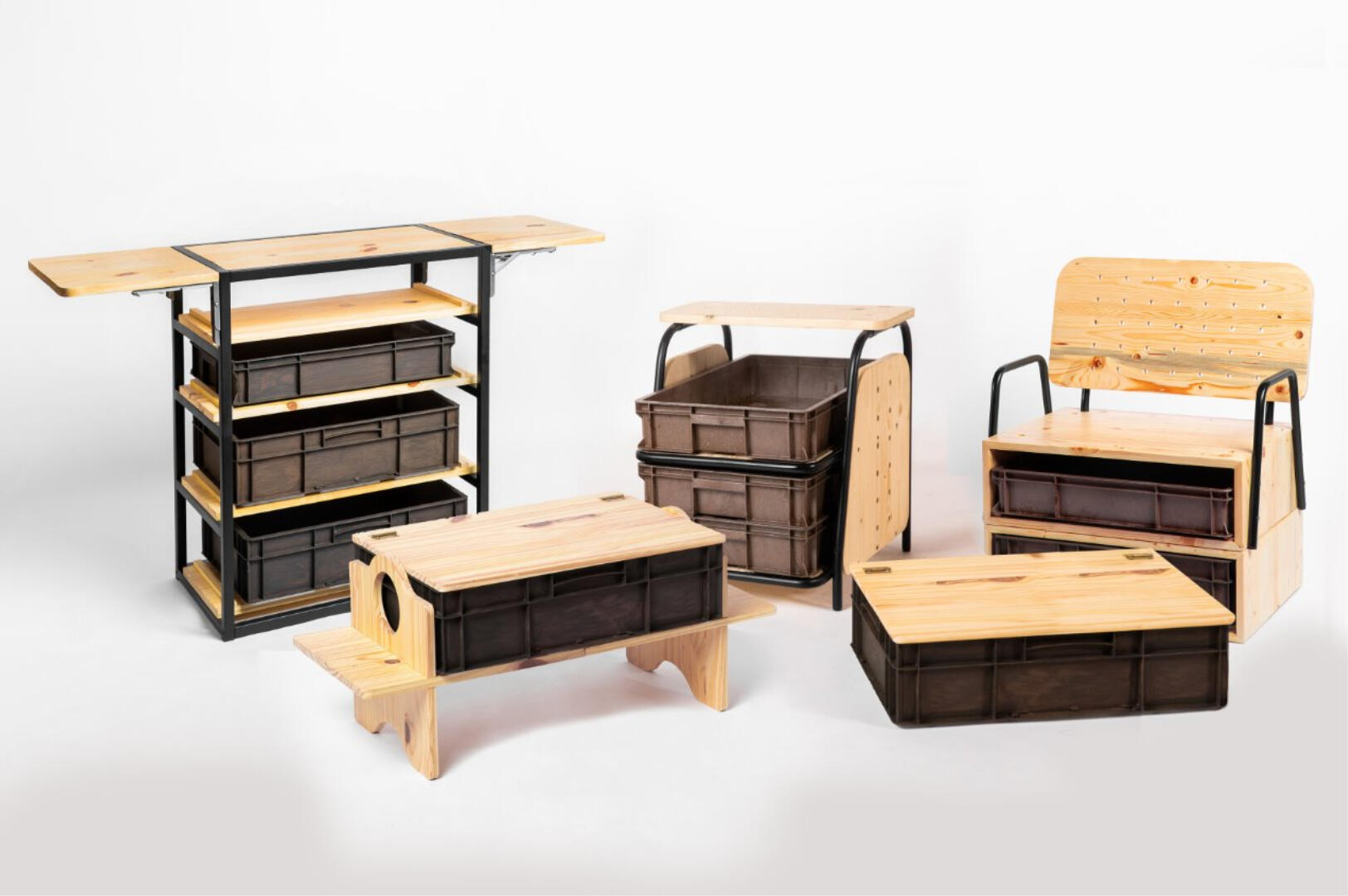 ---
Bakong Chair & Mannequin
BAYO's Co-CEO and Chief Creative Office Anna Lagon, in collaboration with mentor and designer Dem Bitantes, designed an accent chair that evoked the feeling of comfort, style, and femininity. The upholstery is made of bakong handloom fabric with bakong tassels for details. A community partner provided recycled marine plastic waste as filling for its upholstery, which was prepared to be soft and comfortable.Dem's proposal of a mannequin accent piece, a nod to BAYO'S pioneering pathways in the fashion industry and sustainability, is made of cardboard waste material from their workshops and layered with bakong twine.Designer:
Dem BitantesManufacturer:
BAYO
---
Bakong Collection
This collection of lounge furniture adapts and applies traditional handloom technique and weaving. Dem uses bakong and cotton fabric blend, created by one of BAYO's partner weaving communities, for the upholstery, bakong twine, and wood to accentuate the pieces. Through his design, he hopes to position bakong as a favorable, high-quality material for premium furniture.Designer:
Dem BitantesManufacturer:
A Garcia Crafts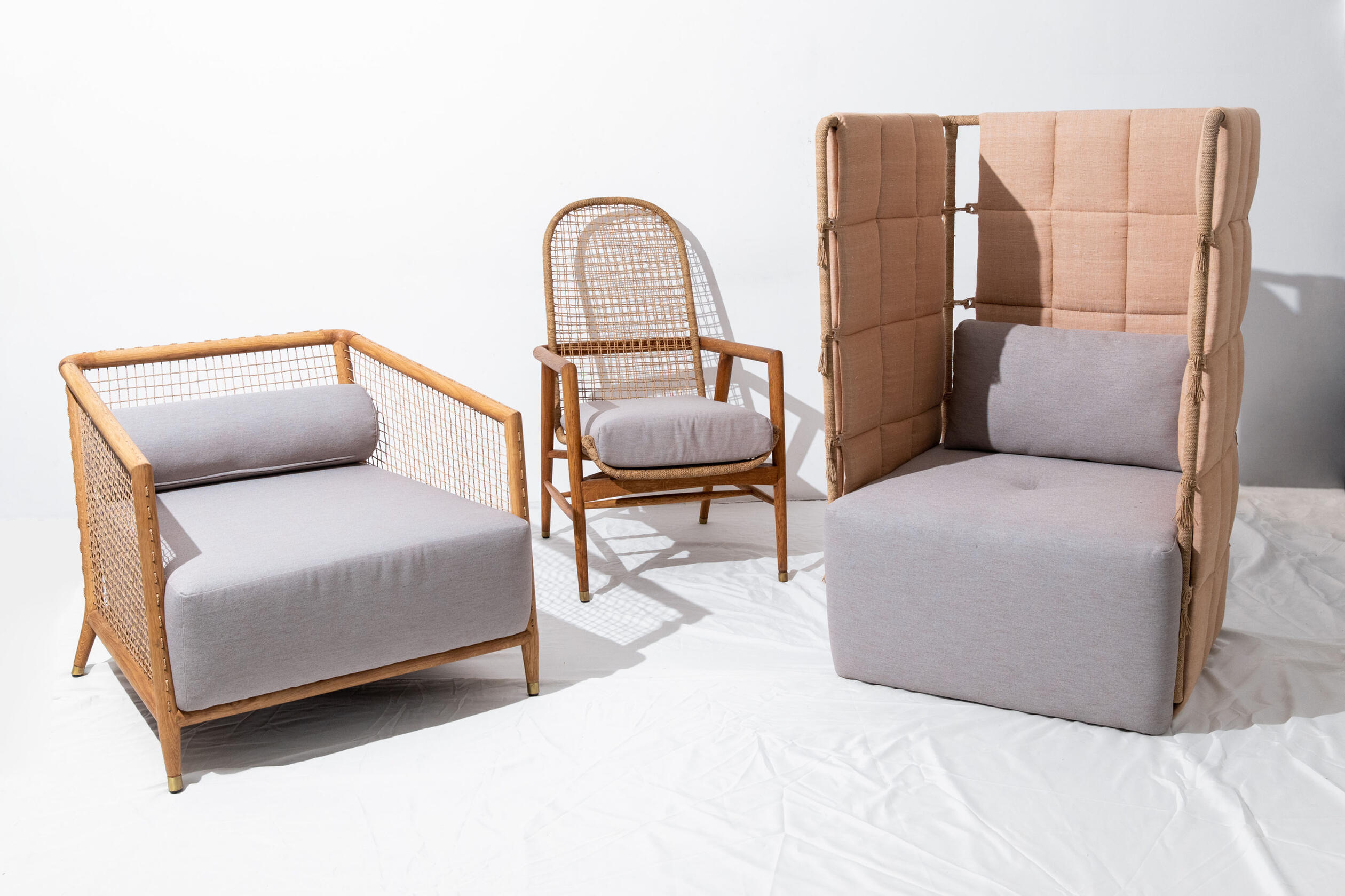 ---
Contrapunto
Contrapunto, or counterpoint, is a lighting collection that was developed through the process of improvisation. With the bakong biocomposite bins as the starting point of the design, Stanley added wood as support structure and material counterpoint to the bio-based plastic. He explores the concept of the handmade and industrial, and how materials evoke warmth and coldness.Designer:
Stanley RuizManufacturer:
Contemporaneo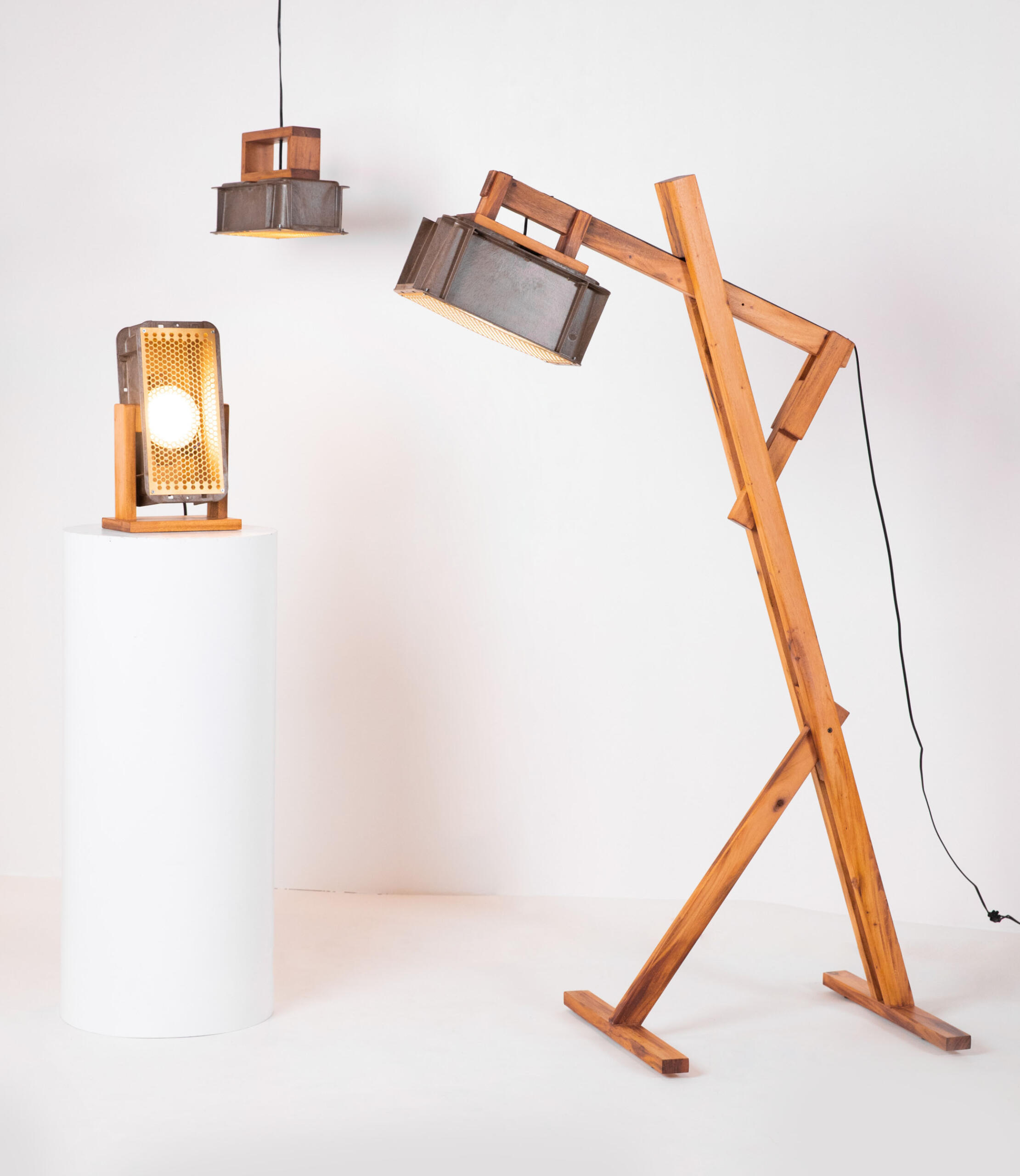 ---
Habi Bench
Pocket Garden in Intramuros is envisioned to become an urban oasis tucked within the walls of the historical and cultural landmark. The area is placed with a series of benches that doubles as bicycle racks and designed for the Intramuros community and its visitors to relax and spend meaningful time with friends and family. The modular benches are made of bakong biocomposite lumbers supported by metal frames.
Manufacturer: